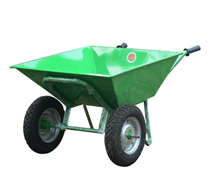 FEATURES
• Wheel Barrow has been fabricated according to the international standards.
• Heavy duty wheel barrow with maximum performance
• Stronger and More Durable
• It is used for:

AGRICULTURAL PURPOSES

CLEANING PURPOSES

CONSTRUCTION SITES
• Wheel Barrow bucket is fabricated from GP /TATA GALVANO(LIFE LONG NON CORROSSIVE GUARANTEE) sheets.
• Extra-deep depth bucket
• Extra-strong chasis with H R pipe
• Wide frame to improve load distribution over uneven ground
• Greater stability with twin wheeled assembly
• Improved balance and weight distribution when loaded
• Tyre and Tube are Indian made.
• Easy- to- change wheel assembly
• All bolts and nuts are gold coated.
• Soft Grip handles for easy use.